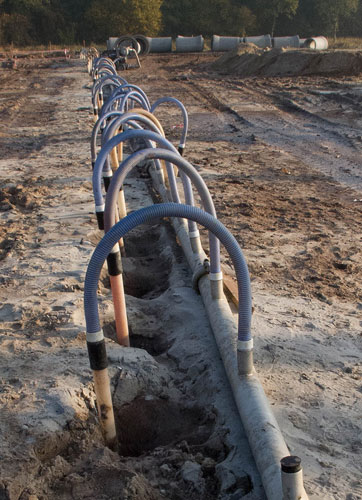 Wellpoint system IGE-81/63 is designed for intensive ground dewatering. The difference between IgE 81/32 and Ige 81/63 is increased diameter of wellpoint (from 1″ to 2″), different suction header connections, and existence of additional flexible connectors for each wellpoint.
The system is replacement for steel based wellpoint installations with 2″ wellpoints.
Wellpoint 63mm (internal diameter 50mm) has filter 600mm long.Its mounted by thread with PE riser pipe (what is usable for transport and service purposes). In standard we propose wellpoint (header+riser pipe)in total lenght 5000mm. Other options allowed too.
Base diameter recommended for the system for suction headers is 133mm.
Wellpoint system IgE 81/63 is especially recommended for very high permeability grounds with high content of gravel.
For work with that filteres there are recommended high capacity pumps with max. capacity like 300-400m3/h.  There could be also suitable piston pump, working with 40mts set.
Diagram of wellpoint system  IgE 81/63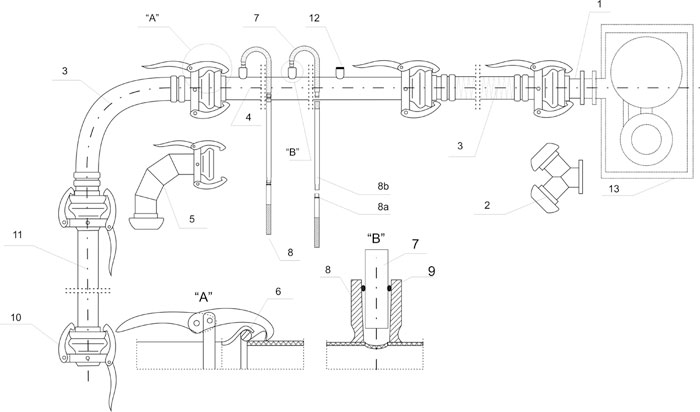 1 – Flanged coupling
2 – "Y" divider
3 – Flexible hose for header pipes
4 – Suction header pipe
5 – Bend 90 degrees
6 – Header pipe Oring
7 – Flexible connector for 63mm wellpoints
8 – Wellpoint filter PE D63
8a – FIlter header
8b – Riser pipe
9 – Oring 63 for flexible connector
10 – Female cap
11 – Discharge pipe
12 – Rubber plug 63
13 – Wellpoint pump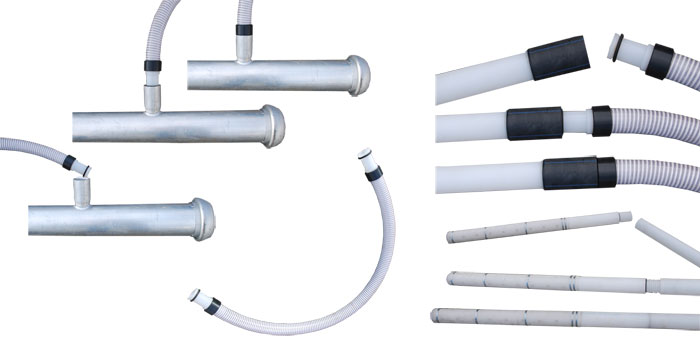 Typical wellpoint system set IGE-81/63 for 50mts.
| Pos. | Element name | Quantity per set |
| --- | --- | --- |
| 1. | Suction header pipe (5mts, with 5 connections) | 10 |
| 2. | Female cap | 3 |
| 3. | Rubber plug 63 | 20 |
| 4. | Flanged coupling | 1 |
| 5. | Oring 63 for flexible connector | 120 |
| 6. | Oring for jetting pipe 89 mm | 3 |
| 7. | Header pipe oring | 30 |
| 8. | Flexible hose L 3mts | 3 |
| 9. | Flexible  connector D50, L1500mm | 50 |
| 10. | Wellpoint filter L6000 D 63 screen 600 mm | 50 |
| 11. | Jetting hose 75/89 L20000 mm | 2 |
| 12. | Jetting pipe 89 mm L6000 mm | 1 |
| 13. | Bend 133 mm /90 degrees | 2 |
| 14. | "Y" divider with flange or coupling | 1 |
| 15. | Tool for D63 filter removals | 1 |
| 16. | Discharge hose | according to the needs |