Geho ZD900 wellpoint piston pump

Geho ZD pumps have been produced for several years with a capacity of 30-100m3 / h. The currently recommended model is the Geho ZD 900 (with a capacity of 95 m3 / h), optimized for use with the most commonly used types of wellpoint filters..
Geho ZD 600 (with capacity of 65 m3 / h) and Goliath series pumps (with capacity up to 50m3 / h) are available on request.
ZD 900  pump – technical data
Capacity: up to 95m3 / h. water or air (independent of head/pressure)
Pumng head (max pressure) : 20m (2 bar)
Vacuum: up to -9.6m
Connections: quick couplings in size 108,133,159 according to order
Power transmission: drive belts
Engine: Hatz 1D81Z 5.5kW or electric 5.5kW
Fuel consumption – only 1-1.4 l/h
Piston movements: up to 70 / min.
Cylinder diameter: 175mm
Versions of Geho ZD 900 model
Version
Drive
Dimensions and dry weight
Remarks
ZD900 E
Electric, 400V, 5.5kW
200x70xh130cm
900 kg
ZD900 Diesel Open
Diesel , Hatz 1D81Z, 5.5kW
280x70xh130cm
1250 kg
ZD900 Silent Compact
Diesel , Hatz 1D81Z, 5.5kW
212x98xh1380
1585 kg
47db(A) z 10m.
ZD900 Super Silent
Diesel , Hatz 1D81Z, 5.5kW
276x99xh1220
1800 kg
45db(A) z 10m.
ZD900 Diesel-electro Silent
Diesel , Hatz 1D81Z, 5.5kW
+ electric 5.5kW
212x98xh1380
1700 kg
40-47db(A) z 10m.
(electric motor
and diesel driven engine
together in the set)
The ZD 900 Silent Compact piston pump is the most commonly purchased model. High quality housing, ergonomically designed interior, attention to useful details makes the device an excellent solution for various types of users.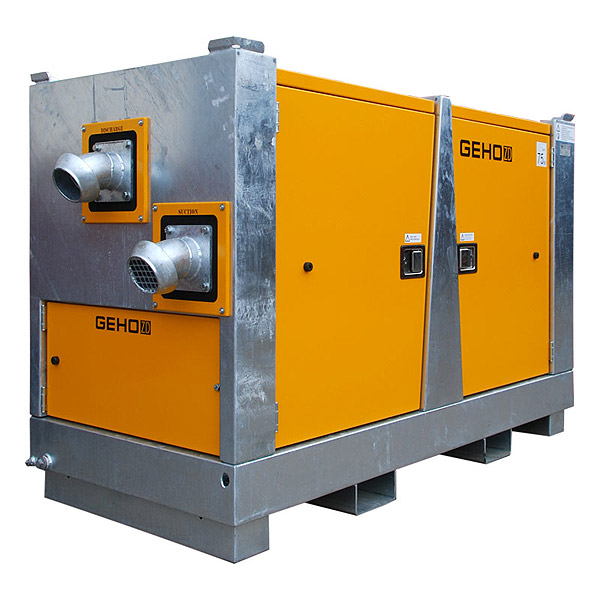 GEHO ZD 900 Silent Compact – construction advantages
Pump and engine are rigidly mounted on a steel frame, which is flexible mounted on 6 oil resistant rubber vibration isolators, resulting in optimum vibration control mounting and a reduced noise level
Soundproof canopy covering the pump as well as the engine
Hot dip galvanized collection tank for connection of oil from leakage's and/or used oil, complete with build in water separators;
Hand operated drain pump to drain the lubrication oil from diesel engine and the pump drive end;
Collection tank provided with fork-lift packets;
Wide doors (provided with durable locks and hinges) enabling to reach easily all components of the pump and engine. The panel above the engine is a hinged roof cover provided with two gas springs;
The fixed root and side panels are easy to dismantle;
Battery and battery holder for the electrical starting device of diesel engine
Fuel tank provided with large fuel filter;
Fuel tank filler cap, lockable from the inside , which is mounted on the noise hood;
Build in hot-dip galvanized stone and sand catcher;
Central crane hook integrated in the noise hood;
Patented exhaust silencer which highly contributes to remarkable low noise level
The soundproof canopy is high quality powder coated;
Base frame is galvanized
Vacuumeter installed on stone catcher
Every pump is passing detailed tests at factory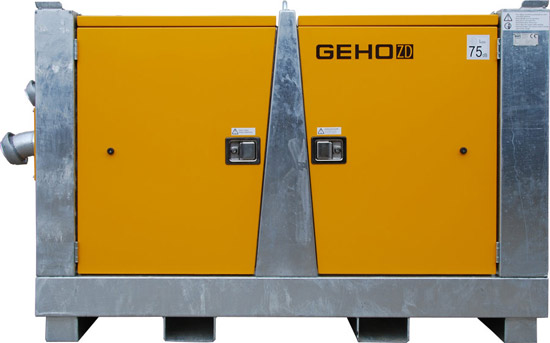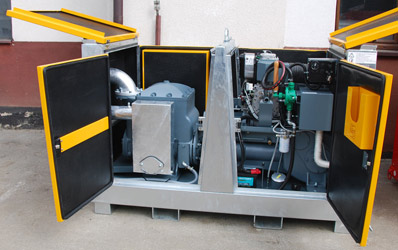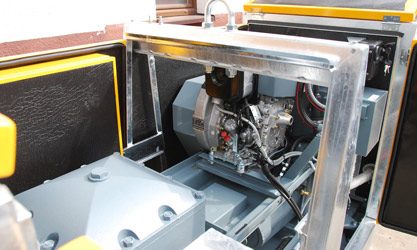 Service support, spare parts
We guarantee full after-sales support, both during the warranty period and after the warranty period.
In stock we have most of the spare parts purchased. We also carry out periodical services and repairs.
Read also: