Global Pump pumps –  for dewatering, sewage bypass, for high flow and high head applications
Global Pump is the US located manufacturer of high efficient trash pumps, and high head pumps.
The pumps available in sizes from 4 inch to 24 inch., capacities up to 3700m3/h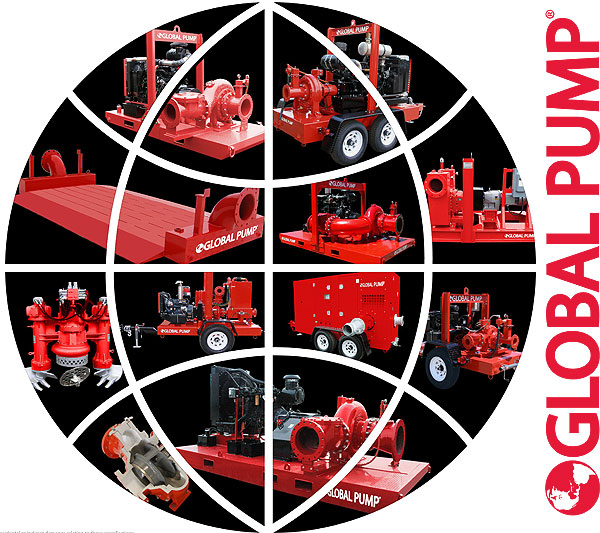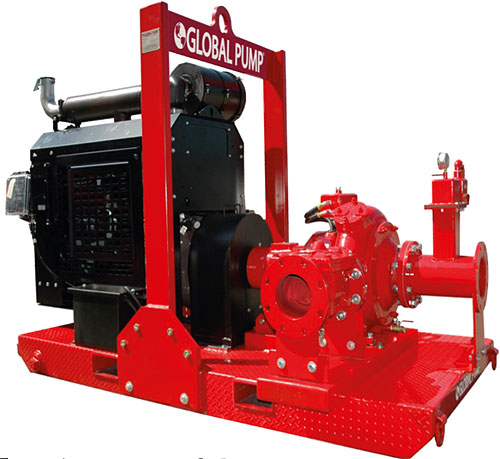 Global Pump units – general info
Global Pump  GST, GHT, GSH, GHH series are based on pump sections with high efficiency enclosed impellers, with the ability to pump heavily contaminated liquids and wastewater.
Pump sections with high hydraulic efficiency (over 80%) allow for significant fuel savings, making the Global Pumps the most cost effective and competitive operating equipment.
Automatic priming, based on the venturi injector system with integrated compressor, allows for maximum vacuum up to 8.5m. Versions with the "venturi" system have a symbol ending in "AP" eg GSTAP, GHTAP, etc., and this is a standard recommended type of vacuum assist. On request, other variants of the vacuum system (eg diaphragm or oil pump) are available, but the injector system is perceived by many pump users as the most reliable  compared to alternative solutions.
Global Pump units are available in the range of connection sizes from 100mm to 600mm, with flow rates from 90 to over 3600 m3 / h. (1500-60,000 lps.) And lifting heights (head) up to 185 m, solids handling depending on model are available up to 125mm.
Standard versions are driven by diesel engine. There are also available electrically driven and version in soundproof canopies.
*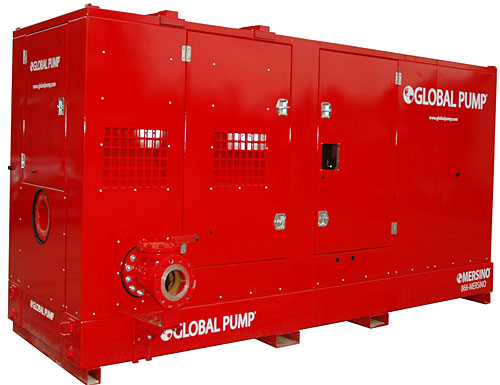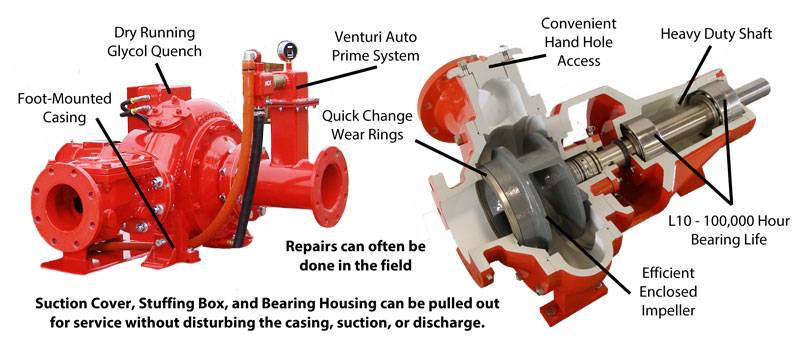 Solutions used in Global Pump pumps
Highest fuel consumption efficiency (high efficiency, over 80% in most models, makes them the market leader on this issue)
Mechanical seal in glycol allows for dry running
Large free impeller solids passage (eg 100mm in 8 inch pump)
Low friction looses return valve design
Ease of use and maintenance
Durable and heavy duty construction
As standard, ready for automatic work controlled by float switches
Global Pump – series and models of pumps
Special material executions
Stainless steel CD4MCu version  for demanding applications with increased corrosivity and abrasion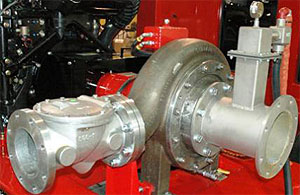 J
As an option, Global Pump offers a full line of its CD4MC-based pumps – a high grade duplex stainless steel dedicated for applications with high corrosivity and abrasion / abrasion.
CD4MCu is a Fe-Cr-Ni-Cu-Mo alloy with a duplex ferrite and austenite structure. Quite high strength and hardness combined with good ductility results in a high abrasion resistance and corrosion resistance.
The CD4MCu provides significantly better impact and corrosion resistance and less pitting than standard stainless steel. The material has a higher durability and therefore is more durable.
The selection of components for the pump should take into account many factors – including type of pumped liquid, PH, expected operating point parameters (efficiency, lifting height), pump speed, operating nature (continuous or not). Please contact us to find the best solution for your application.
CD4MCu pump versions – download PDF

(english)
Read also:
Trash pumps GSTAP, GHTAP series
Trash Auto Prime – GSTAP, GHTAP series – wide capacity range pumps with pompy wysokiej wydajności i podwyższonego podnoszenia do szlamów, ścieków, wody zanieczyszczonej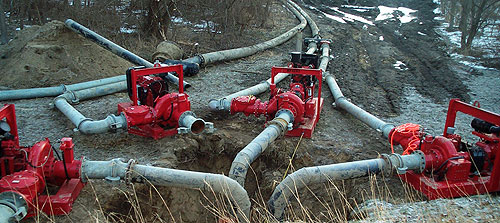 Seria GSTAP – trash medium head pumps
Standard Trash Auto Prime
GSTAP series is the universal series of multipurpose pumping units for heavily contaminated liquids, slurries, wastewater (solids handling up to 100mm)  with medium heads of up to 35-50m. depending on the model.
Model
Ports (mm)
Capacity max.
Head max
Example duty point
Solids handling
4GSTAP
100 x 100
284 m3/h.
35 m
Q=180 m3/h.
at H=27m
75 mm
6GSTAP
150 x 150
625 m3/h.
50 m
Q=300 m3/h.
at H=36m
75 mm
8GSTAP
200 x 200
772 m3/h.
50 m
Q=500 m3/h.
at H=38m
100 mm
12GSTAP
300 x 300
1885 m3/h.
36 m
Q=1200 m3/h.
at H=27m
100 mm
18GSTAP
450 x 350
2840 m3/h.
42 m
Q=1800 m3/h.
at H=32m
100 mm
GSTAP pumps – performance curves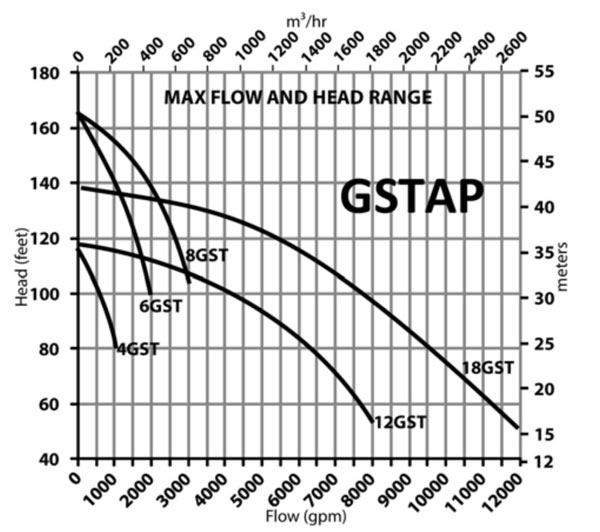 GHTAP series – trash pumps with higher head – High Trash Auto Prime
GHTAP series are suitable for pumping heavily contaminated liquids and wastewater (solids handling up to 125mm) with the possibility of obtaining higher head/pressure in the range of up to 51-73m depending on the model.
GHTAP pumps will work well both for long distance pumping and can be useful in open pit mines as well as for pumping liquids with higher specific gravity.
Model
Ports(mm)
Capacity max.
Head max.
Example duty point
Solids handling
4GHTAP
100 x 100
365 m3/h.
53 m
Q=200 m3/h.
at H=43m
75 mm
6GHTAP
150 x 150
727 m3/h.
67 m
Q=450 m3/h.
at H=50m
75 mm
8GHTAP
200 x 200
1000 m3/h.
70 m
Q=600 m3/h.
at H=58m
100 mm
12GHTAP
300 x 300
2000 m3/h.
51 m
Q=1200 m3/h.
at H=33m
100 mm
18GHTAP
450 x 350
3400 m3/h.
54 m
Q=2000 m3/h.
at H=40m
100 mm
24GHTAP
600 x 600
3634 m3/h.
73 m
Q=2500 m3/h.
at H=50m
125 mm
GHTAP  pumps – performance curves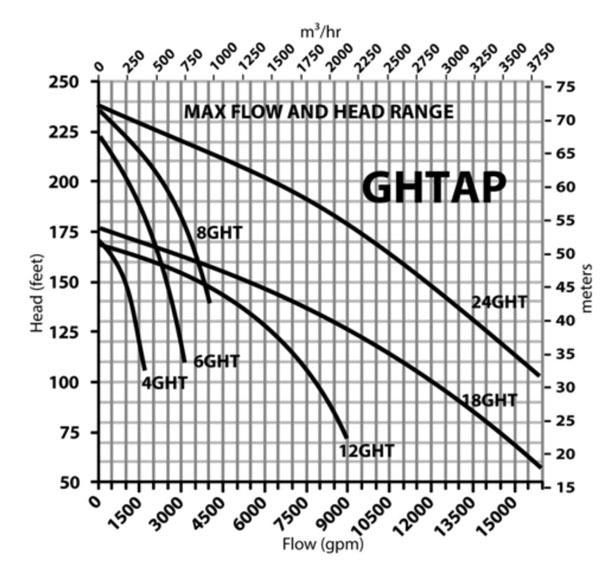 High head pumps Global GSHAP, GHHAP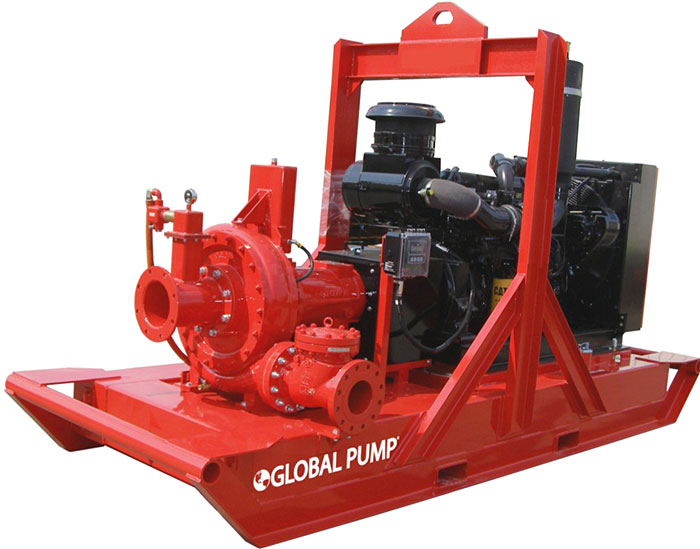 Series  GSHAP – standard high head pumps
Standard High Head Auto Prime
GSHAP and GHHAP pumps are high and very high head pumps (up to 185m) .
GSHAP – models
Model
Ports (mm)
Capacity max.
Head max.
Example duty point
Solids handling
4GSHAP
100 x 75
250 m3/h.
120 m
Q=200 m3/h.
at H=100m
15 mm
6 GSHAP
150 x 100
450 m3/h.
110 m
Q=325 m3/h.
at H=100m
22 mm
8GSHAP
200 x 150
800 m3/h.
105 m
Q=550 m3/h.
at H=95m
34 mm
12GSHAP
300 x 200
1000 m3/h.
100 m
Q=900 m3/h.
at H=95m
38 mm
Series GHHAP – high performance high head pumps
Hyper High Head Auto Prime
GHHAP – models 
Model
Ports (mm)
Capacity max.
Head max.
Example duty point
Solids handling
6GHHAP
125 x 100
284 m3/h.
185 m
Q=200 m3/h.
at H=160m
22 mm
8GHHAP
200 x 150
625 m3/h.
185 m
Q=400 m3/h.
at H=160m
34 mm
12GHHAP
300 x 200
772 m3/h.
180 m
Q=1000 m3/h.
at H=165m
63mm
GSHAP, GHHAP – performance curves