Wellpoint filtr jetting and installation in the ground
Wellpoints are installed (set) in soil using the water jetting method with jetting pipes connected to a water jetting pump or hydrant. The IgE81 wellpoint system set contains two types of jetting pipes (casing pipes):
small diameter D 51 mm,
large diameter D 133 mm.
with varying lengths in order to facilitate jetting into different depths.br> Jetting pipe 51 (item 13) is used to install wellpoints in soils which do not require filtration sand filling to be used, and jetting pipe 89/108 or 133 ( is applied to jetting wellpoints in cases when it is necessary to use prefilter  sand filling.
Filtration sand filling shall be carried out in:
interbedded soils (containing impermeable layers) up to the height sufficient for sand filling to interconnect all drained soil layers; most often, however, along the whole height of wellpoint jetting.
" homogeneous dusty soils, up to a height of about 0.5 m above upper filter edge (in practice 2 buckets of sand filling).
Graining of filtration sand filling shall be selected depending on the soil in which the filter is to be set, according to the following rule:
SFGC/SGC = beetween 5 and 10
where:
SFGC = average sand filling grain coarseness,
SGC = average soil grain coarseness.
Wellpoints shall be installed every 1m along a predetermined line, ensuring that all filters within the indicated wellpoint line (connected to a single pump) are at one level.A team of 4-5 trained workers is required to install wellpoints at the construction site.
More informations in user's guide which can be downloaded from this site.
Jetting of the wellpoint filters – some photos
Connection of jetting hose to the jetting pipe, and going with the pipe into the ground (ith the help of water flow)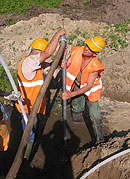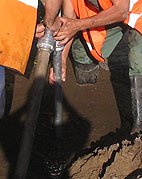 Then jetting bend with hose is removed, and the filter is inserted into the jetting pipe. Finally jetting pipe is removed from the ground and filter remains here, ready to be connecte to the suction header pipe.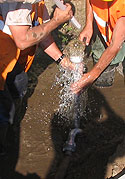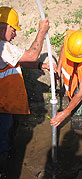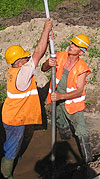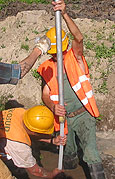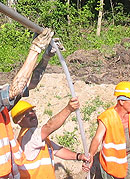 Some accessoies for jetting : [1] jetting pipe D51, [2] jetting pipe D133 , [3] jetting hose, 4] bend for jetting hose
Pumps for jetting
Dependig on the ground type, jetting pipe diameter, and wellpoint type, for the jetting can be used the pumps  with ability of producing water pressure between 3-10 bars. Particularly in Poland, most of our jobs, are done with 5 bar pumps.
There can be user as well motorpumps, or public hydrant system, or electric pumps.
Advantage of motor pumps (comparing to electric pumps without VFD) is ability of RPM regulation during jetting.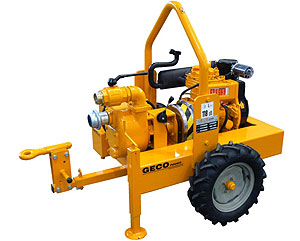 Wellpoint installation and dewatering – example videos
Thanks for help in making  the clip to the company EKO BUD sp. Z o.o. , Katowice

Thanks for help in making  the clip to the company ZIHB Majewski, Gliwice